A true tuscan farm stay next to Val d'Orcia's medieval towns and thermal baths
Bindozzino's self catering apartments are an ideal choice for a romantic stay in the Val d'Orcia region: from the ancient stone built cottage on the hills south of Castiglione d'Orcia you will enjoy a stunning view and beautiful sunsets.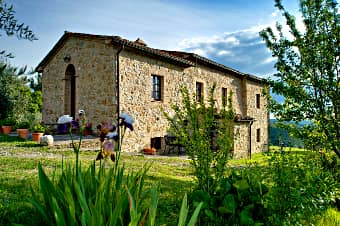 Bindozzino Agritourism is located in an olive grove atop the green hills in the municipality of Castiglione d'Orcia (Siena, Tuscany). The cottage has been accurately restored and subdivided into two independent living quarters. There one can appreciate breathtaking views of Montalcino and Val D'Orcia. Pienza and the thermal baths of Bagni San Filippo and Bagno Vignoni are only a few minutes away by car.
The country cottage dating back to the 16-th century is set in a splendid location, nestled in the placid countryside of the Val d'Orcia region, near the bordering communities of Montalcino and Castiglione d'Orcia, a few minutes drive from the main attractions in the area.
The typical tuscan style country house is divided into two separate self catering apartments set in the quiet countryside yet only a short ten minute walk from the house to the nearest restaurants. Both apartments have a bathroom, kitchen and satellite TV. The two apartments are independent, each with its own separate access, and offer a cozy and intimate ambience.
Our advantages
The cottage is surrounded by greenery, in a calm, idyllic location, away from road traffic and city life noise.
A big garden to enjoy: for al fresco dining, sun bathing, relaxing while sitting in a deck chair, observing wild flowers and plants, and many other possibilities that are simply inconceivable when you lodge in one of the usual AirBnB accommodations located in the urban centre.
Great panoramic views.
Car park next to the cottage: forget the hassle of finding a free spot to park, a common issue with rooms and apartments located in the narrow streets of historic towns in the region.
Beautiful countryside: Bindozzino farmland lies entirely within the Val d'Orcia Natural Park, a UNESCO World Heritage Site since 2004.
Farm stay location: our guests can reach the main attractions in the Val d'Orcia region within minutes by car.
Walking distance from two restaurants.
Exclusive discounts tickets let our guests save money at local SPAs and restaurants.
Time to book your summer stay. And get the best deal!
Did you know that by placing a reservation through our website you can save 18% or more on short stays prices (an average 35% on long stays for groups with more than two adults) compared to our airbnb.com and booking.com listings? Lower prices is only one of the advantages you get by placing a direct booking through our website. Other benefits include: more flexibility with arranging the right accommodation that meets your needs (including but not limited to when children are involved, i.e. need an extra bed for a kid? Ask and we will provide you with a bed or a cot for a very low price), and exclusive discount coupons for spa facilities in the area.
What does agritourism mean?
Agritourism is the most authentic way to experience a vacation in the Tuscan countryside. The number of Agritourism accommodations in Italy went from 1,800 in the year 2000 to over 3,000 in 2004 and further increased to more than 4,000 (offering more than 50.000 sleeps) at the end of 2008; one out of every four agritourism business are located in Tuscany alone (source: the Region of Tuscany's tourism monitoring centre – http://www.regione.toscana.it/-/la-toscana-degli-agriturismi-ecco-tutti-i-numeri ). But what does Agriturismo mean? The word is commonly used to describe any type of retreat that presents any connection to the countryside; in reality very precise laws regulate the operation and definition of a true agriturismo. In Tuscany one can refer back to law #30 passed on July 23, 2003 (and its further amendments in 2009, 2014 and 2016), that establishes that an agriturismo can only be considered one if agriculture is practiced in the said location and constitutes the main source of income.
Bindozzino is a genuine agritouristic farm as it is run by a family of farmers and stands in the center of a 25-hectare plot of land where olives, fruit trees, and vines are grown. A superb extra virgin olive oil, that we graciously invite you to try, is extracted from the olives harvested in the vast olive grove. The guests stay in a stone cottage separated from the owners' living quarters by a two hundred meter walkway.
Bindozzino's small, family run lodging business lacks the hectic comings and goings typical of hotels and resorts and thus offers a peaceful setting and a fulfilling sense of intimacy making its guests feel at home.
The cottage can be dated back to the XVI century. Built from locally found stone the cottage was recently renovated with great attention to maintaining its original character. It is surrounded by olive groves and woods, sitting atop Poggia Rosa Hill, one of the most panoramic areas in Castiglione D'Orcia, offering amazing views of Montalcino, the Orcia Valley, Mount Amiata, and the lands of northern Maremma.